Have you got a story?
- take impressions and make connections between unrelated content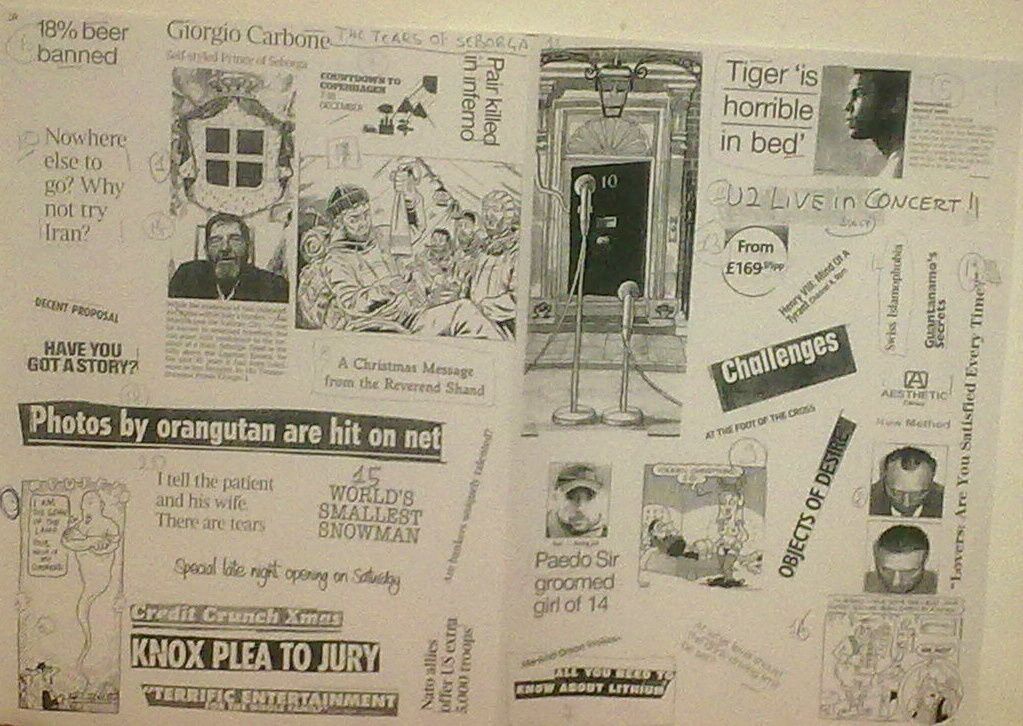 Once upon a time reigned GC, Prince of Seborga, a wondeful kingdom above the Ligurian Riviera; he was sad, because he was loosing his hairs, so he went to an aesthetic clinic to try a "New Method", where he did a transplant, like an other italian king SB.
Once back to Seborga he asked to his servant to find a magic lamp. Then the servant went to Copenhagen, between the 7 and 18 of december, but he couldn't find the lamp. Then he decided to ask Mohammed Alì, the boxer said: "A tiger is horrible in bed."
And the servant: "What does it mean?"
Mohammed Alì:"Nothing, but you can find the lamp in the country where the 18% of beer is banned."
Then the servant went to this country where asked for the lamp to Orson Welles, who said: "To find the lamp all you need is lithium"

So the servant purchased a bottle of lithium and drunk it. Once he finshed the bottle he received a Christmas Message from Reverend Shand, the message was a naked girl with elk horns that said: "Merry Christmas, Sid. Nowhere else to go? Why not try Iran?"
So Sid the servant sailed to Iran,where he found that there were the U2 in concert, he decided to go there. Once in the stadium he took the stage and asked to the audience: "Does anyone have a magic lamp to sell?"
There was, in the crowd, an islamophobic swiss man that said: "I have one and I can sell it for £169.95pp."
Sid the servant bought the lamp and carried it to the Prince of Seborga, which rubbed its edges.
The genie appeared and the prince asked for the first wish: "I want the World's Smallest Snowman."
So the World's Smallest Snowman was delivered in the prince room, but few minutes later he received a phone call, a male voice said: "I'm afraid I have some bad news ... your puppet son has been eaten by a whale."
"Oh no.", replied the prince, and in the same moment and arctic explorer was finding two small fingers in a sock.

Then the prince asked for the second wish: "I want to sing a song with the UK prime minister", so the genie carried the prince to Downing Street and prepared two microphones. GC had his glory moment.

Then, for third, he asked to take pictures of an orangutan to upload them on his facebook profile.
Once pictures were on the net a friend of the prince commented: "Lover, are you satisfied every time?"

Then Reverend Shand called the prince parents: "Hello, your son wasted the third wish of the magic lamp to take pictures of an orangutan".
The king looked the queen.
There are tears.